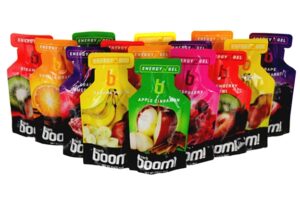 We're excited about our new partnership with the industry's leading energy gel – Carb Boom! Energy Gels®, the best tasting and best performing energy gel for endurance athletes. Carb Boom! Energy Gels® are made with real fruit and have a high ratio (11:1) of complex carbs (maltodextrin) to simple sugars, superior taste, and no added sugars, and no artificial flavors, colors or sweeteners.s
You'll see them at the 10 Miler, Hofbrauhaus Half Marathon and River Run Half Marathon.
Use coupon code is HERMESBOOM for a 25% savings on great tasting CarbBoom! Energy Gels®.
Train with what is on the course on race day!